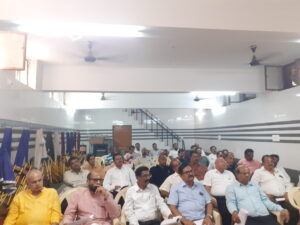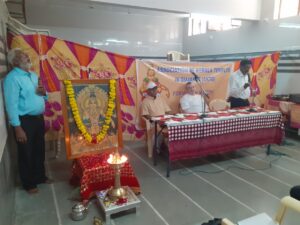 21st August 2022
Association of Kerala Temples in Gujarat formed
There are 32 temples in Gujarat consecrated in the Kerala style by tantra vidhi, prana pratishta etc. and managed by independent trusts and societies of domiciled Keralites. Of these, 31 are Ayyappa temples and one is a Krishna temple. These temples are spread over entire Gujarat, from Umargam in the south, on the Maharashtra border to Mehsana in the north to Gandhidham in the west.
Sabarimala Ayyappa Seva Samajam took the initiative to bring all these trusts and societies operating the Kerala style temples under one forum, Association of Kerala Temples in Gujarat (AKTG).
The objectives of the association are:
To function as a common platform of all trusts and societies that are administering the Keralite model temples in the State of Gujarat and the Union Territories of Daman, Diu and Silvassa
To facilitate imparting and exchange of knowledge, skills and experiences in administering such temples amongst the administrators
To facilitate sharing and effective utilization of resources such as priests, priestly assistants, temple staff, visiting artists and scholars etc.
To impart and promote education and awareness in the temple worship traditions to the next generation and instill pride in them
To facilitate outreach to the local community with a view to ensuring continuity and sustainability
To function as a representative of the community of temple worshippers with the state and union governments and the local authorities
The formation meeting of the association was held at the Ayyappa Temple in Gandhi Nagar on 21st August, 2022. Representatives from 13 temples and office bearers of SASS attended the meeting. The meeting was presided over by Shri Mohan Nair, President, Shree Ayyappa Trust, Vadodara. Shri Pankaj Pillai, Secretary, Gandhi Nagar Ayyappa Puja Samiti welcomed the delegates. Shri Prabhakaran, National Jt. Organising Secretary, SASS outlined the objectives and methodology of AKTG.
After the inaugural session, the draft byelaws of AKTG was presented by Shri Lekshminarayanan, President, North West Zone, SASS. After detailed clause by clause discussions, the meeting adopted the byelaws unanimously. An ad hoc committee comprising the following members was constituted:
Dr Muralidharan, Gandhidham
Shri Pankaj Pillai, Gandhi Nagar
Shri Vijay Kumar, Bharuch
Shri Jayasoman, Valsad
Shri KN Vikraman Nair, Vadodara
Shri Prabhakaran, Ahmedabad (SASS)
Shri Lekshminarayanan, Vadodara (SASS)
Shri Mohan Nair has consented to be the Patron of the association.
Each trust / society will sign a covenant with AKTG in the coming months formalising its commitment. After that the General Council comprising 2 nominees from each trust / society will be constituted. General Council will in turn elect an Executive Committee comprising 5 office bearers and 8 members. The meeting decided to complete the process before mandala masam.
The hosts, Ayyappa Temple, Gandhi Nagar hosted a sumptuous lunch and presented mementos to all delegates.